The Mansfield & Notts Capri Club website is a car club website for the Ford Capri. This website needed to be a community managed website and so we recommended the excellent Concrete5 CMS (content management system). This is a very easy to use CMS that can be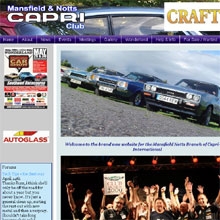 used by people with little or no web experience. Its also free as an off the shelf system and has a thriving marketplace of low cost or free add-ons. We use the Events Calendar add-on since the club attends many car shows and other events throughout the year.
Other notable features: a simple banner ad system, news pages pull-throughs, rss feed from forums.