A full e-commerce solution with built in discounting and featured products. We used a combination of Joomla and Virtuemart for this one to provide a rich e-commerece feature set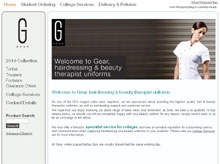 right out of the box with advanced content management capabilities. This one is integrated with the Protx payment gateway. Other advanced features include a mailing list manager, online anti-spam captcha contact forms and easy CMS management.
We also created several Virtuemart add-ons and re-used the built in shopper groups functionality to provide a College Student login system whereby upon logging in a student sees only the uniform items that they need to buy for their specific course. Each college has its own pricing and own style of uniform (some with custom embroidery). Free products can also be added to a college's set of products and orders can be specified to be delivered directly to the college (without the need to enter the address - the system stores information for each college).All this is handled via custom add-ons to the Virtuemart administration back-end.
See: www.gear-uk.com