Bespoke Website based on Magneto's LiveSite
The Philharmonia Orchestra website uses Magneto's LiveSite CMS as a framework but has been extended with many custom features. The online shop features an advanced search,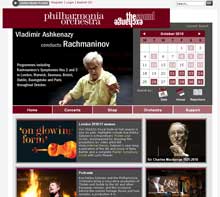 downloadable MP3s and online sales of concert tickets. The events calendar allows upcoming orchestra events to be quickly located. Events can be searched for by date, venue, or repertoire. All events feature social bookmarking so that you can easily add to Facebook, Digg, Reddit etc. The online shop allows audio samples of orchestra pieces to be played so you can try before you buy.